Cimbria is increasing its massive presence in Egypt with a recent order of a huge silo complex at Port Said, the Egyptian city at the entry point of the Suez Canal. The silo complex consists of eight silo bins with a capacity of 12,500 tons each and will be used for secure storage of wheat.
The city of Port Said in Egypt is now getting its first silo complex for secure storage of imported wheat. Cimbria has been present in Egypt for more than 30 years and knows the Egyptian market very well. In fact, 95 percent of all silo complexes in Egypt–with a total storage capacity of 2.5 million tons–has been delivered by Cimbria. However, the silo complex at Port Said is the first Egyptian port silo complex from Cimbria. With the population increasing by 2.5 percent every year, there is a great need for safe storage complexes in the country:
- The 100,000 tons silo complex for Port Said will be an important contributor to secure food storage in Egypt. Therefore, we are very proud to support the Egyptian government's efforts on securing safe and sufficient food for the growing population of Egypt with this order, explains Sami Salah El Din, Regional Director of Cimbria in Egypt.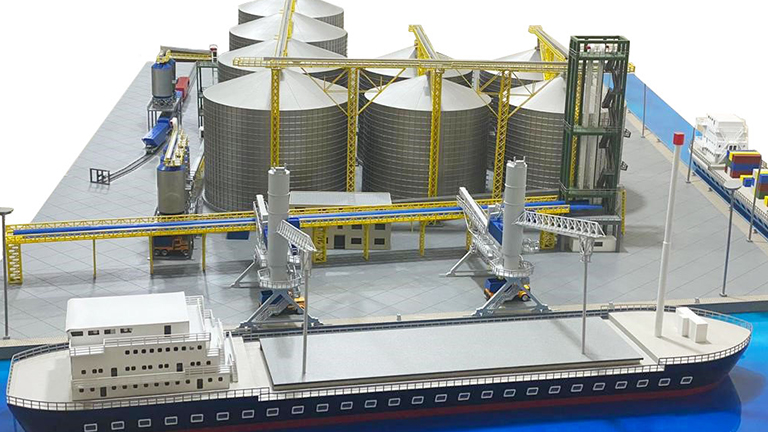 Every year, the GOE Egypt imports around 9 million tons of wheat from countries like Russia, Ukraine, France, America, and Australia. A significant share of the imported wheat is used to produce 300 million pieces of the traditional Egyptian flatbread balady daily. Balady is an important part of the everyday diet for the population of 100 million people in Egypt. Additionally, the private sectors are importing around 3 million tons of wheat for white flour.
Port Said's new silo complex includes grain bins, conveyor systems, fully electronic control system, and loading equipment for railways and trucks. It is designed with state-of-the-art technology and the operation of the complex will require onsite training for the operators.
- The complex is a strategically important part of the Egyptian government's aim of building safe stockpiles of grain and wheat reserves as withstand to fluctuations in market prices due to future market developments, says Sami Salah El Din.
The construction of the new silo complex in Port Said is done with local labour and will be managed with onsite supervision from Cimbria. The work started in February this year and is expected to be finished within two years. The funding of the complex is cofounded by the GOE & OPEC Fund for The General Company for Silos and Storage (GCSS).